New in Capo touch 2.10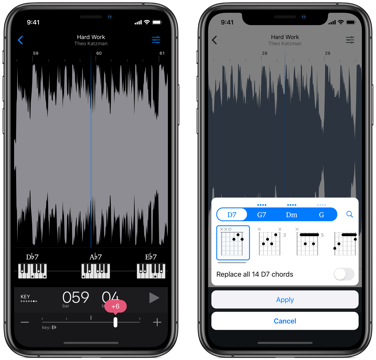 Capo touch has been updated for iOS 13! It now supports the system-wide Dark Mode appearance, and we built a much-improved Chord Chooser that is exclusive to users running iOS 13!
New Features
Dark Mode Support
On iOS 13, Capo supports the new system-wide Dark appearance! To enable Dark Mode on your device, head to the Settings app, choose Display & Brightness, and select the Dark appearance option.
As with the Mac version of Capo, we took great care to study Apple's guidelines when designing our dark UI, and did our best to follow Apple's lead while building it. For those of you that prefer to rock out in the dark—we're ready for you!
Pro Tip: Toggle Dark Mode Quickly
Want to switch Dark Mode on or off without having to head to the Settings app each time? You can add the Dark Mode toggle to your Control Center to do this anywhere! While in the Settings app, choose Control Center, then Customize Controls. Find the Dark Mode item in the list of "More Controls", and tap the Add button to put it in your list.
New Chord Chooser
After upgrading to iOS 13, you will also be treated to an all-new chord editing experience. We re-designed it to be faster, easier to use, and to reflect your preferred chord display mode.
So if you use the Simple Piano display, or prefer to just see your chords by name, you won't have to look at those pesky guitar chords any longer!
Improvements & Bug Fixes
Recently Played Songs
When importing songs from your Music library, you can now choose from a list of songs that are sorted by the last time you played them. This can be very helpful for digging up the songs you recently heard—in the car, on your morning jog—and felt inspired to learn yourself!
New HUD Digits
We are big fans of Apple's San Francisco system font, and wanted to use it in the Heads-Up Display for a while. After some poking and prodding, we found just the right combination of font features that helps Capo fit in, but stand out at the same time.
Fixed: iTunes Store Links
When "Capo Needs Your Help", tapping the Buy on iTunes button will no longer take you to the Music app instead of the iTunes Store. A recent update to iOS 12 appears to have caused this issue, and we're sorry for the inconvenience.
Other Fixes
As usual, we took care to address the most common crashes & bugs that were reported by our users—thank you for your feedback & submissions! Please continue to let us know how we can make Capo the perfect tool for learning to play your favorite songs!

Capo touch requires iOS 10.3 or later