The future of learning to play.
Like a pro.
Behind Capo's award-winning interface lies a great deal of sophisticated technology. Chord Intelligence, the Spectrogram, and now Isolation give you access to learning to play songs like never before.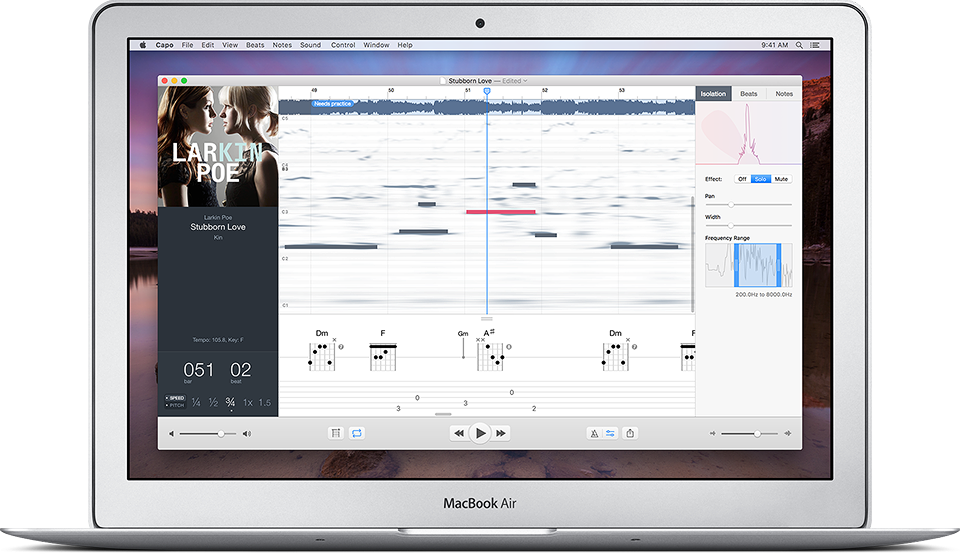 Capo is a fantastic way to analyze & learn music quickly; I love how clean the pitch algorithm is even at 1/4 speed. Capo is a great teaching & learning tool whether you're a rank beginner or a seasoned professional.

Vernon Reid
Guitarist for Living Colour

Kristian Bush
Guitarist/Singer for Sugarland

Will Lee
Bassist for David Letterman

Pete Thorn
Guitarist for Chris Cornell

Isolation
NEW
Vocals or instruments can now be heard in isolation or muted in your music. Pull out solos to hear them more clearly, or eliminate them to play along with your own custom backing track. Learn more.
iCloud Sync
Share Capo projects between Capo touch and Capo 3 on your Mac automatically for complete freedom to work on your songs wherever you are.
Chord Intelligence
Capo saves you time by automatically detecting chords when you open a song. Our brand-new detection engine is based upon machine learning technology, and requires far less user intervention than previous versions.
Spectrogram
Capo's spectrogram display allows you to look deep inside your music to not only see what is being played, but how. Identify bends, vibrato, slides, and other nuances of the performance to help you play exactly what you are hearing.
Tab it Out!
Click and drag on notes in the spectrogram with your mouse and Capo will generate tablature for you. No need for a notepad, and you can even work without your instrument nearby. Watch it in action!
Slow Your Music
Slow down your favorite music without affecting its pitch, so you can practice along with solos at a comfortable pace. Capo employs a mastering-quality time stretching engine so your music sounds great at any speed.
Chord Boxes
Not only does Capo show you the chords in a song, but also how to play them. Capo can display a myriad of chord shapes in various tunings. Choose the voicing you're most comfortable playing or learn new ones!
Pitch Adjustments
Instantly change the key of your songs using an easy pitch slider. By simply holding the shift key, you can also adjust the pitch of a song finely to correct a recording that's out of tune.
Looping Regions
Click and drag in the waveform to create regions that snap to the beat and loop in time with the original recordings. You can also change region colors and give them names to help you keep organized.
Capo and Tuning Options
Instantly audition the chord detection results with different frets and alternate tunings, so you can find out quickly where it's most comfortable for you to play.
Metronome and Count-off
The Metronome and Count-off features let you rehearse like a pro. Give yourself a bar or two to take a deep breath before rocking out with your favorite songs.
Sharing
Capo documents can now be shared easily via email, AirDrop, Messages, or by simply copying a file to another Mac. Now you can collaborate on transcriptions with your students or colleagues.