Capo for Mac
Reverse Engineering Rock 'n' Roll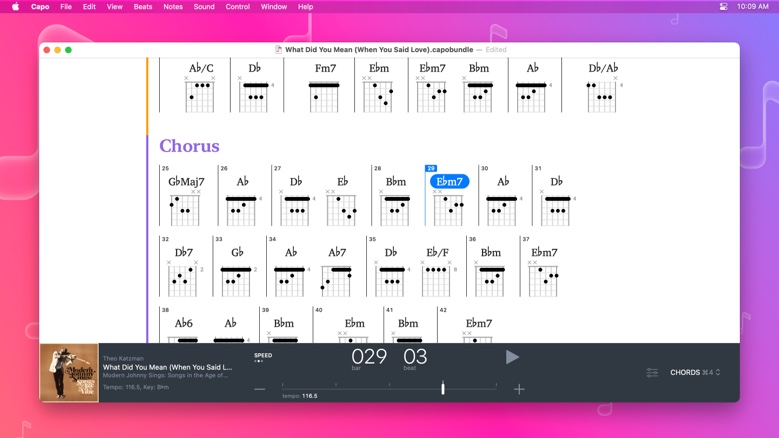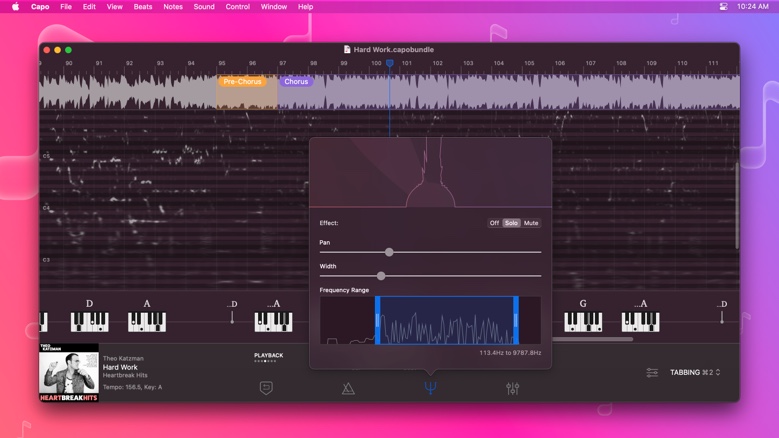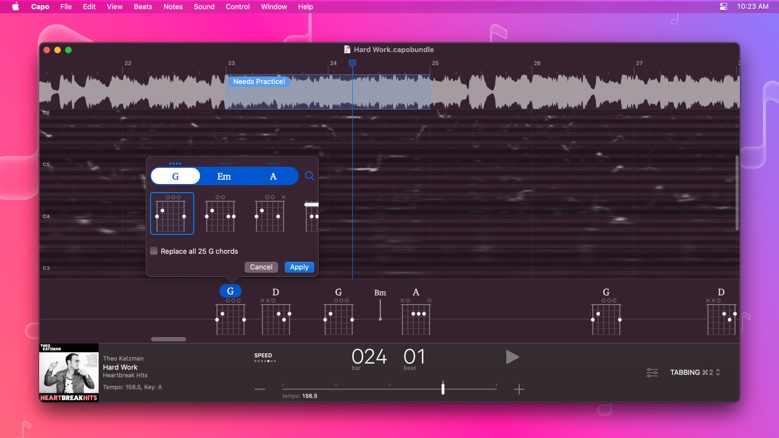 Capo uses advanced signal processing and machine learning technology to help you learn songs by ear quickly. Its powerful, simple-to-use tools allow you to dig deep into the details of a recording so you can learn to play songs more accurately, and in less time.
Slow it Down
Slow down (or speed up) the recording without changing its pitch. Practice with the recording at a comfortable pace, or listen more carefully to make sure you haven't missed any notes. Capo's high-quality time stretching engine ensures that your music sounds great at any speed.
Get the Chords
Capo analyzes the songs you load by "listening" to them, and then displays all the chords it hears. In addition to naming the chords, Capo can show diagrams for guitar, ukulele, banjo, mandolin and even 4-6 string bass. It can even display left-handed chords. Rock on, southpaws!
Solo / Mute Instruments & Vocals
By adjusting Capo's isolation controls, you can solo or mute a single instrument/vocal to hear it more clearly, or eliminate it to create a custom backing track. Capo's cutting-edge isolation effect is powered by the Neptune isolation engine.
Tab It Out, Hear Each Note
Use your mouse to "draw" notes inside the spectrogram. As you click and highlight each note, hear it played back as tablature is generated automatically for you—no need to keep a notepad at hand to transcribe solos.
---
Apple Design Award
Mac Developer Showcase
Winner 2011

Best of Mac App Store
Best Apps of the Year
2011

iMore Best of 2014 Award
Audio App of the Year
2014
Capo is a fantastic way to analyze & learn music quickly; I love how clean the pitch algorithm is even at 1/4 speed. Capo is a great teaching & learning tool whether you're a rank beginner or a seasoned professional.
I have been wishing for this software for years. It's incredibly useful, whether I'm charting my own songs for the players who join me, or discovering exactly what is being played on a recording I love.
I am a devout Capo user for a couple of years now—it's the GREATEST of all, especially since it makes a library of your tunes you work on and is sonically great. It's my go-to music learning app!
Capo is an invaluable learning tool. I use it to loop hard phrases, and slow them down with very few artifacts, making them easy to master!

Vernon Reid
Guitarist for Living Colour

Kristian Bush
Guitarist/Singer for Sugarland

Will Lee
Bassist for David Letterman

Pete Thorn
Guitarist for Chris Cornell

Read what more pros are saying ›
Capo Specifications
Playback
Slow down audio without affecting pitch
Transpose to different keys
Isolate instruments and vocals
Eliminate instruments and vocals
Scrub with audio frozen in time
Song Analysis
Detects chords, and the key of your song files
Uses beat detection to calculate tempo and provide snapping
Powerful Spectrogram display for simple tabbing
Tabbing
Draw on the Spectrogram to generate tablature
Displays tablature for Guitar, Banjo, Mandolin, Ukulele, and 4-6 string Bass
Chords
Detected chords can be edited one at a time, or globally
Displays chord boxes for Guitar, Banjo, Mandolin, Ukulele, and 4-6 string Bass
Left-handed chord box display also available
Metronome
Song-synchronized click track
Includes 5 different metronome sounds
Metronome can count in your looping regions
Markers/Regions
Regions can be looped for practice
Markers mark the notable points in a song
Rename regions and change their colors to keep organized
User Interface
Designed specifically for the Mac
Switch between Practice and Tabbing modes
Supports MacBook Pro with Touch Bar
Toggle visibility of Chords and Notes
Full Screen support
Autosave
Projects
Audio, user entries, and effects are saved into Projects
Sync projects using iCloud for use with Capo touch and your other Macs
Share projects using AirDrop, Messages, and more
Custom Control
Capo can be configured to use custom keystrokes for playback control
Use MIDI foot switches and controllers to control Capo's playback
Supported File Formats
Purchased, DRM-free audio from iTunes
WAV, AIFF, MP3, MP4, M4A
Cannot load protected M4P files
Exporting
M4A/AIFF files with playback adjustments
Audio-synchronized MIDI files with chord and note entries
Requirements
A Mac with macOS El Capitan or newer
Legacy versions also available

Capo requires macOS 10.11 or later