The future of learning to play.
Anywhere.
With Chord Intelligence, beat detection, and other sophisticated technology that was once reserved for full-size computers, Capo touch brings the power of our award-winning Capo 3 to musicians on the move.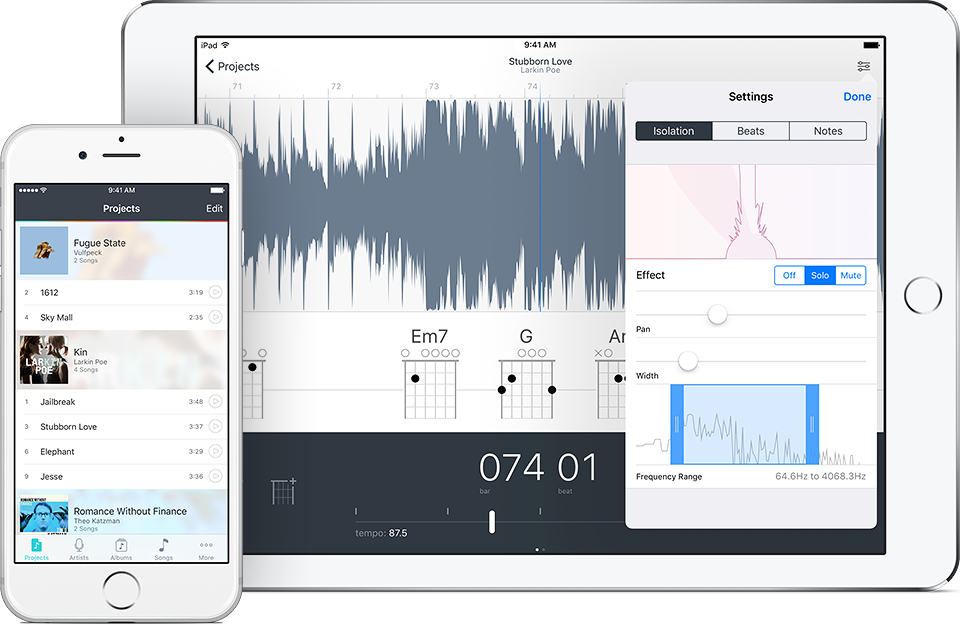 Capo's a lifesaver, it truly is! I always carry my iPad, and now I can use Capo there and on my computer. I love the initial auto chord detection and the Add Chord button to catch every detail of the performance.

Kenny Wright
Bassist for John Legend

Al Carty
Bassist for Alicia Keys

Billy Morrison
Guitarist for Billy Idol

Hanan Rubinstein
Guitarist for Alicia Keys

Read what more pros are saying

iCloud Sync
NEW
Share Capo projects between Capo touch and Capo 3 on your Mac automatically for complete freedom to work on your songs wherever you are.
Automatic Chord Detection
NEW
Capo saves you time by automatically detecting chords when you open a song. Our brand-new detection engine is based upon machine learning technology, and will have you learning to play your songs faster than ever.
Slow Your Music
Slow down your favorite music without affecting its pitch, so you can practice along with solos at a comfortable pace. Capo employs a very high quality time stretching engine that makes your music sound great at any speed.
Chord Boxes
NEW
Not only does Capo show you the chords in a song, but also how to play them. Capo can display a myriad of chord shapes in various tunings. Choose the voicing you're most comfortable playing or learn new ones!
Transposition
Instantly change the key of your songs using an easy pitch slider, and watch as the chords and chord boxes update to reflect the key change instantly. Now you can quickly transpose your music to a key you're more comfortable playing, or singing along with.
Looping Regions
NEW
With a tap of the region button, you've got an instant looping region around a bar of your song—locked to the beat! Tap and hold the play button to enter region looping mode, and practice in time with the original recording. Editable region colors and names help to keep you organized.
Capo and Tuning Options
NEW
Instantly view the changes in your chord boxes with different frets and alternate tunings to suit your instrument, or where it is most comfortable for you to play.
Metronome and Count-off
NEW
The Metronome and Count-off features let you rehearse like a pro. Give yourself a bar or two to take a deep breath before rocking out with your favorite songs.
Effects
Capo lets you modify panning, adjust a 10-band graphic equalizer, and apply vocal reduction to help you isolate the parts of the music you wish to learn.
Seamless Music Browsing
NEW
Capo touch offers a beautiful new music browser that lets you look through your music library comfortably and quickly. A list of Projects lets you view and select the songs you've already worked with.