Reverse Engineering Rock and Roll
Capo 3 helps you learn to play the music in your iTunes library quickly. Now with automatic chord detection, Capo 3's award-winning capabilities let you learn to play your favorite songs faster than ever.
Free Trial
Download - 10MB
The future of learning to play
Capo will change the way you learn to play music. The audio-to-note approach will soon seem so natural to you that you will no longer regard your favorite bands' music as inaccessible to play yourself. You can learn to play any music you have as a recorded audio file, whether a mp3, m4a, wav or aiff file. This is the future of learning to play music. It's no wonder Capo won a prestigious Apple Design Award.
---
What pros are saying
World-class musicians are praising Capo's flexibility, speed and reliability for learning and experimenting with music. Whether used as a problem solver in their day-to-day work of learning music for a gig or just to grow as a musician, Capo is inspiring some of today's top musicians in the industry. Capo's sound quality has also been given great attention by employing a mastering-quality time stretching engine, so your music sounds great while learning it at any speed.
read what people are saying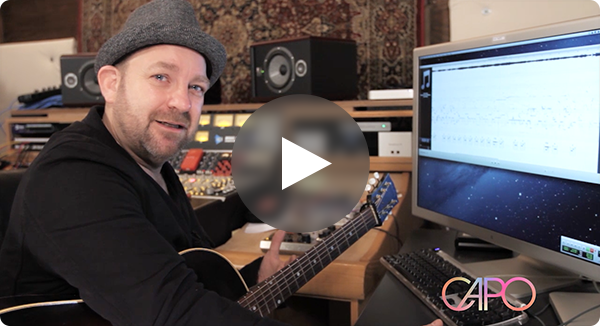 See music the way you need
With Capo you can learn songs in an intuitive and flexible way. The automatic chord detection appears when you load a song from iTunes, and updates instantly if you change key, place a virtual capo on your instrument, or switch tunings. But there's more to what you can now see in the music you're learning! Capo makes it easy to learn the details of a music performance using the visual representation of frequencies in an audio file called a "Spectrogram". Swipe across notes to instantly generate guitar tablature and also see every performance nuance - the note bends, slurs, and vibrato - to reinforce what you are hearing.
Slow Your Music
Capo can slow down your favorite music without affecting its pitch, so you can practice along with solos at a comfortable pace. Capo employs a mastering-quality time stretching engine so your music sounds great at any speed.
Automatic Chord Detection
Capo saves you time by automatically detecting chords when you open a song. Quick edits to the chords can be made with a few clicks, or by entering simple strings such as 'bmaj7' or 'f#maj9'.
Easy Transposing
Capo lets you instantly change the key of your songs using an easy pitch slider. By simply holding the shift key, you can also adjust the pitch of a song finely to correct a recording that's out of tune.
Chord Boxes
Not only does Capo show you the chords in a song, but also how to play them. Capo can display a myriad of chord shapes in various tunings. Choose the voicing you're most comfortable playing or learn new ones!
Tab it Out!
Swipe over notes in the spectrogram with your mouse and Capo will generate tablature for you.
Looping Regions
Click and drag in the waveform to create regions that snap to the beat and loop in time with the original recordings. You can also change region colors and give them names to help you keep organized.
Sharing
Capo documents can now be shared easily via email, AirDrop, Messages, or by simply copying a file to another Mac. Now you can collaborate on transcriptions with your students or colleagues.
Metronome and Count-off
The Metronome and Count-off features let you rehearse like a pro. Give yourself a bar or two to take a deep breath before rocking out with your favorite songs.
Capo and Tuning Options
Instantly audition the chord detection results with different frets and alternate tunings, so you can find out quickly where it's most comfortable for you to play.
Effects
Capo lets you modify panning, adjust a 10-band graphic equalizer, and apply vocal reduction to help you isolate the parts of the music you wish to learn.