Experience the remarkable, and easy-to-use Capo interface, now on your iPhone, iPod touch, and iPad.1. Learn to play the music in your iPod library2 by slowing it down, without changing its pitch.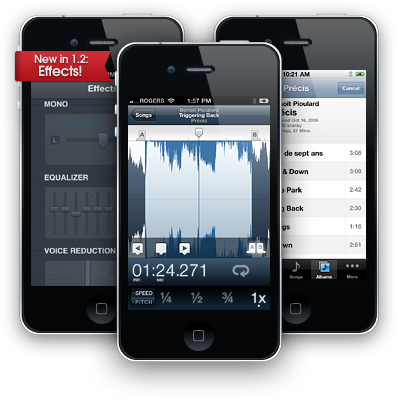 It's your music
No longer do you have to rely on the musical tastes of others to learn music. Work with the songs that are already on your iPod, in your own collection.

Pitch Adjustment
Capo lets you adjust the pitch of your songs—so you can change their key or fine tune them to match your instrument.

Looping
Repeat difficult sections slowly, playing along with your favorite artist. Speed up gradually as you get better.

Effects - NEW!
Capo lets you modify panning, adjust a 10-band graphic equalizer, and apply vocal reduction to help you isolate the parts of the music you wish to learn.

Markers
Mark the important phrases and sections in your song so you can jump back to them later, and use them to easily place loop points.
Capo requires iOS version 5.0 or later.
AIFF, WAV, MP3, and unprotected AAC files are supported. Older iTunes purchases may not be supported. See the iTunes store for details about upgrading your music to the iTunes plus format.