New in Capo 3.7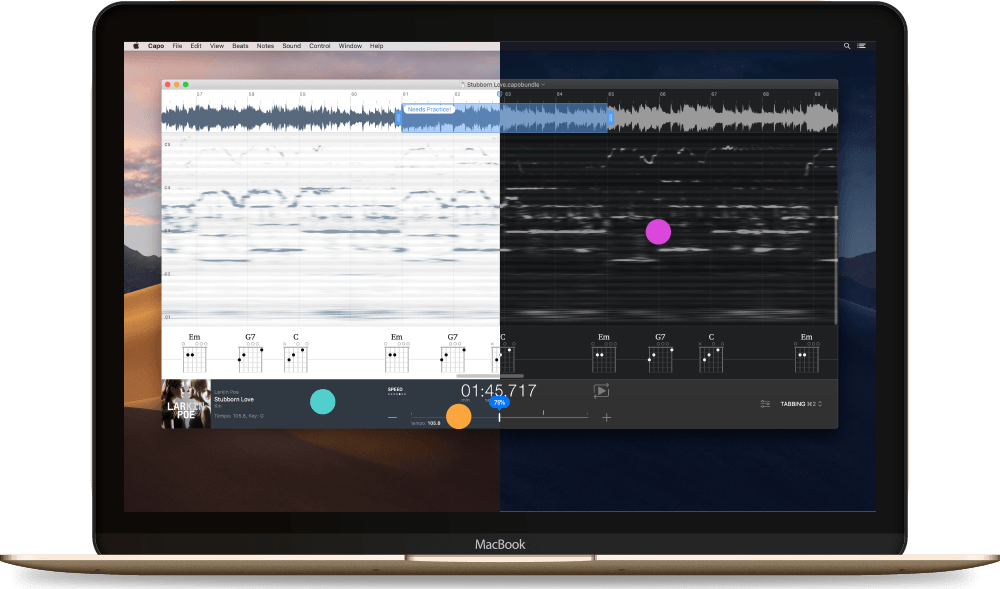 New Features
Dark Mode Support
Fans of the all-new Dark Mode introduced in macOS Mojave will really appreciate all the work we did to support this feature in Capo.
While re-organizing our UI to introduce the new Heads-Up Display, we made sure that our choices would follow the motivation and design goals that Apple shared with us earlier this year. Capo integrates nicely with the rest of the system apps, and it cooperates as its window is tinted to coordinate with your desktop background.
New Heads-Up Display
The HUD now occupies the bottom of the main window, and allows for a wider view of your song's content. This design change allows you to make Capo's window much shorter than before—great news for those that like using Capo alongside other notation and tabbing apps.
The re-positioned transport controls, and the introduction of the Control Strip will feel very familiar to those of you that also use Capo touch.
The Control Strip
First introduced in Capo touch, the Control Strip organizes Capo's various functions into groups of related controls.
Here you will find groups for managing your Regions, Markers, and Chords, and groups that contain sliders to change the Speed, Key, and now Pitch of the song.
Other Improvements
Key and Pitch Sliders
We split the old Pitch slider so that transposing the song will have no effect on the pitch, and vice versa. Now when you fine-tune old recordings, you can transpose the song without having to re-adjust pitch.
Mixer
In the Playback Control Strip you'll now find a set of Mixer controls that let you adjust the volume of notes & chords separately from the volume of the metronome.
Online Documentation
We switched away from our included help file bundle to using online documentation. It's easier for us to keep up-to-date, and much more pleasant for you to read. Win-win!
Region Tweaks
Regions now have larger resize handles, and easier-to-read titles. Moving between regions also has more consistent behavior between all modes of transport.
Tint Color Support
While supporting Dark Mode, we also took care to ensure that Capo's UI respects your preferred system control tint color in all the places that seemed appropriate.
Chord Chooser Styling
When editing a chord using the Chord Chooser, the chords are now drawn using the same style as they are shown on the timeline.

Capo requires macOS 10.12 or later