Learn it, practice it, play it yourself.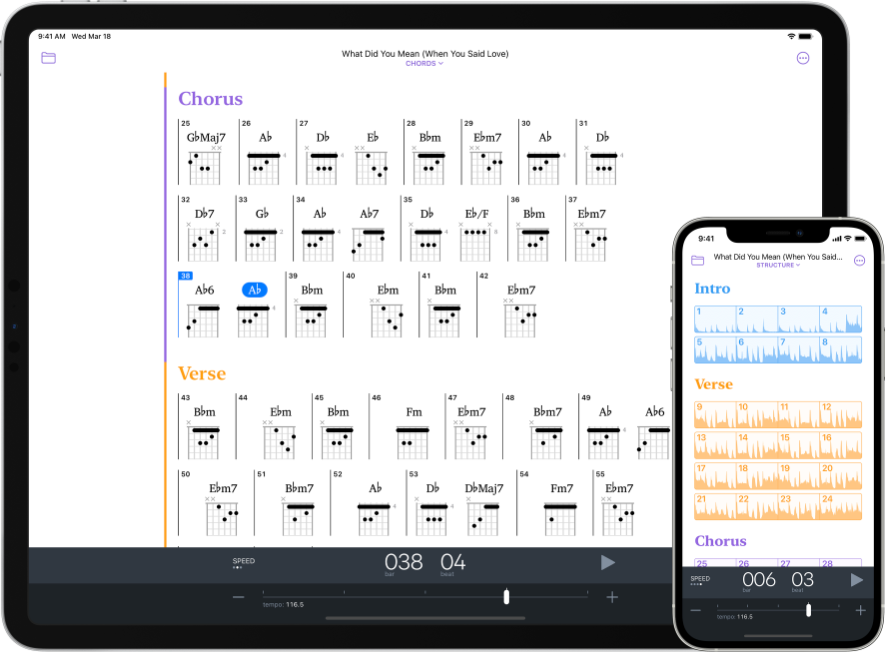 Slow it Down
Slow down (or speed up) the recording without changing its pitch. Practice with the recording at a comfortable pace, or listen more carefully to make sure you haven't missed any notes. Capo's high-quality time stretching engine ensures that your music sounds great at any speed.
Get the Chords
Capo analyzes the songs you load by "listening" to them, and then displays all the chords it hears. In addition to naming the chords, Capo can show diagrams for guitar, ukulele, banjo, mandolin and even 4-6 string bass. It can even display left-handed chords. Rock on, southpaws!
Solo / Mute Instruments & Vocals
By adjusting Capo's isolation controls, you can solo or mute a single instrument/vocal to hear it more clearly, or eliminate it to create a custom backing track. Capo's cutting-edge isolation effect is powered by the Neptune isolation engine.
Loop in Time
Capo's beat detection engine figures out the location of the bars and beats in the song, so you can place a region around the current bar with a single tap. Now you can play along with a loop that repeats in time with the original recording.
Easily the best tool out there
★★★★★
As a music professor, professional musician and tutor, this software has exceeded any other form of ear training and transcription tool out there! I have analyzed Jazz solos, composition and have been able to transcribe elusive chords and sonorities with the spectrum analyzer. By far and away this tool has increased my own musicality triple fold. Absolutely worth every penny if you are a serious musician and professional.
Meastrojj - United States
Capo for iOS
Must Have Music App
★★★★★
Not only is Capo the best Music related app I have, it's my most favoured app of all 200+ apps I have on my phone. Over more than 10 years of use, this app has been absolutely KEY in helping me learn how to play many intricate tunes that I had wanted to be able to play for so many years. I use it almost daily and often for hours at a time. I simply LOVE it!
Philthydog - Australia
Capo for iOS
Indispensable
★★★★★
Wonderfully executed app for musicians needing to learn music more efficiently. Worth every penny.
aydj - Australia
Capo for iOS
Best song learning app
★★★★★
Hands down. Been a user since day 1. It just works and has heaps of features. Big help taking the pain out of learning a lot of songs quickly.
chubefresh - Australia
Capo for iOS
Capo's a lifesaver, it truly is! I always carry my iPad, and now I can use Capo there and on my computer. I love the initial auto chord detection and the Add Chord button to catch every detail of the performance.
Capo fits perfectly when there's a lot of music to chart and not a lot of time. You always try to write a chart in order to memorize the song form. If you can throw it into Capo, it gives you that basic chart form right away.
The chord detection in Capo touch is great, where I need it the most—on the fly in a rehearsal studio. Useful, easy to understand, and packed with features, Capo is the secret weapon for figuring out how a song is played.
I love Capo! What a useful piece of software! I find myself constantly referring to it for so many things, from transcribing my favorite solos to learning new arrangements. Didn't think I was missing it until I started using it.

Kenneth Wright
Bassist for John Legend

Al Carty
Bassist for Alicia Keys

Billy Morrison
Guitarist for Billy Idol

Hanan Rubinstein
Guitarist for Alicia Keys

Read what more pros are saying ›
Capo Specifications
Playback
Slow down audio without affecting pitch
Transpose to different keys
Isolate instruments and vocals
Eliminate instruments and vocals
Scrub with audio frozen in time
Song Analysis
Detects chords, and the key of your song files
Uses beat detection to calculate tempo and provide snapping
Chords
Detected chords can be edited one at a time, or globally
Can display Chord Names, Chord Boxes, Simple Piano diagrams, or nothing if you prefer!
Chord boxes for Guitar, Banjo, Mandolin, Ukulele, and 4-6 string Bass
Left-handed chord box display also available
Metronome
Song-synchronized click track
Includes 5 different metronome sounds
Metronome can count in your looping regions
Markers/Regions
Markers mark the notable points in a song
Regions can be looped for practice
You can rename regions to keep them organized
Supported File Formats
Purchased, DRM-free audio from iTunes
WAV, AIFF, MP3, MP4, M4A, FLAC
Cannot load protected M4P files
Exporting
M4A/AIFF/WAV files with playback adjustments
Requirements
An iPhone, iPad, or iPod touch running iOS 12 or later

Capo touch requires iOS 12 or later
Capo uses ZTX PRO Time Stretch/Pitch Shift Technology licensed from Zynaptiq GmbH.